---
method and madness single grain IRISH WHISKEY
---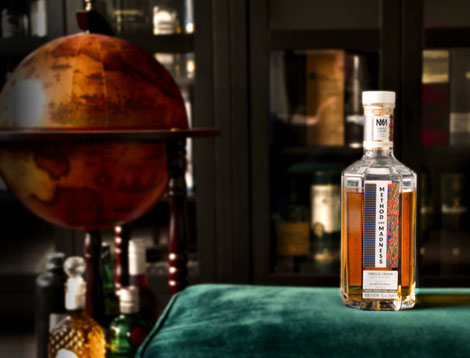 English version below
Stärke:
46% vol.
Alter:
Unbekannt
Kategorie:
Single Grain Irish Whiskey
Fässer:
Bourbon-Fässer, 12-monatiges Finish in getoasteten, spanischen Virgin Oak-Fässern
Preis:
49,00 € / 0,7 Liter
Gekauft bei:
Midleton Distilley, County Cork, Ireland
Glas:
Glencairn
Farbe:
Stroh
Nase:
Äpfel, Getreide und Vanillenoten, werden von einer leichten Würze untermalt. Butterscotch, Karamell und ein Hauch Eierlikör runden das Bouquet ab.
Geschmack: 
Vanille und Eichenholz, leicht würzige Noten und ebenso leichte Anklänge von Zimt.  
Abgang:
Wärmend, kurz und trocken, mit süßer Vanille und Holz.
Last Drop:
Holz
Fakten zum Whiskey
Dieser Ire kommt aus dem Hause Midleton, ebenso wie seine großen Brüder Jameson, Redbreast und den gleichnamigen Midleton-Abfüllungen. Neben diesem Single Grain gibt es noch drei weitere Abfüllungen: Einen Single Malt, einen Single Pot Still und einen 31 Jahre alten Single Grain.
Unser Eindruck
Diesen Blindkauf haben wir im Herbst 2017 in der Midleton Distillery in Irland getätigt und es nicht bereut! Wir lieben Holz- und Vanillenoten und so lässt sich dieser Whiskey auch gut zusammenfassen: Holz & Vanille. Method & Madness. 
And now in English!
Strength:
46% vol.
Age:
Unknown
Category:
Single Grain Irish Whiskey
Barrels:
Bourbon barrels, 12-month finish in toasted Spanish virgin oak barrels
Price:
49.00 €/0.7 liters
Bought at:
Midleton Distilley, County Cork, Ireland
Glass:
Glencairn
Colour:
Straw
Nose:
Apples, cereals and vanilla notes are accompanied by a light spiciness. Butterscotch, caramel and a touch of eggnog complete the bouquet.
Taste:
Vanilla and oak, slightly spicy notes and just a hint of cinnamon.
Finish:
Warm, short and dry, with sweet vanilla and wood.
Last Drop:
Wood
Whiskey Facts
This Irishman comes from the house of Midleton, as well as his big brothers Jameson, Redbreast and the same named Midleton bottlings. In addition to this single grain there are three more bottlings: A single malt, a single pot still and a 31 year old single grain.
Our Impression
We made this blind purchase in autumn 2017 at the Midleton Distillery in Ireland and did not regret it! We love wood and vanilla notes and so this whiskey can be summarized well: Wood & Vanilla. Method & Madness.